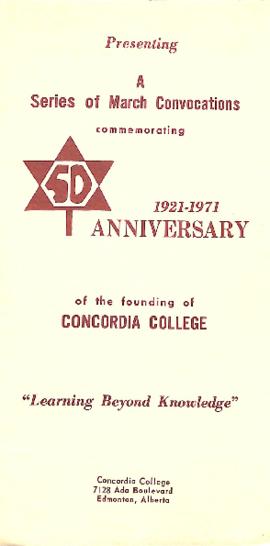 A series of March convocations commemorating 50th Anniversary of the founding of Concordia College
Includes convocation information regarding Education Week (Mar. 1-7), Government Week (Mar. 8-14), Social Concerns Week (Mar. 15-20) and Arts Week (Mar. 21-28).
Panelists include: Mr. Morris Anderson, Principal of Luther College, Regina, Saskatchewan; Rev. K. Glen Johnson, President, Camrose Lutheran College, Camrose, Alberta; Rev. Roland Frantz, President, Concordia College, Edmonton, Alberta.
March Convocations 50th Anniversary Committee: Prof. Lowell Eckert, Chairman; Prof. Alan Merrifield; Dr. Alfred Roth; Prof. Walter Schienbein; Dr. David Stocker; Prof. Gisela Wikeley; Prof. Harold Witte.
Lecturers and drama presentation directors are also listed.
Concerts by the Concordia College Choir, the Edmonton Centennial Choir, and a wind ensemble from the University of Alberta.