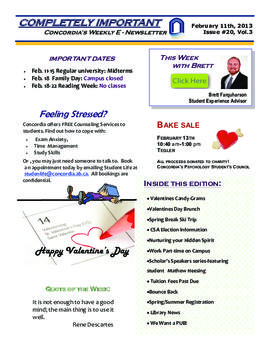 Concordia Weekly Newsletter Volume 03/Issue 20
Table of contents: Valentines Candy‐Grams -- Valentines Day Brunch -- Spring Break Ski Trip -- CSA Election Information -- Nurturing your Hidden Spirit -- Work Part‐time on Campus -- Scholar's Speakers series‐featuring student Mathew Heesing -- Tuition Fees Past Due -- Bounce Back -- Spring/Summer Registration -- Library News -- We Want a PUB!
The Concordia Students Association announces the spring break ski trip to Kimberley Alpine Resort, British Columbia.
Announcements mention Brett Farquharson and Dan Mirau.