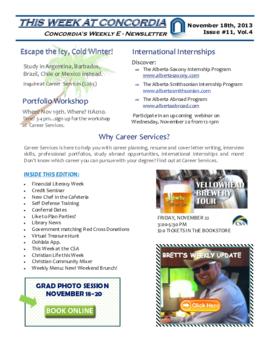 Concordia Weekly Newsletter Volume 04/Issue 11
Table of contents: Financial Literacy Week Credit Seminar -- New Chef in the Cafeteria -- Self Defense Training -- Conferral Dates -- Like to Plan Parties? -- Library News -- Government matching Red Cross Donations -- Virtual Treasure Hunt -- Oohlala App -- This Week at the CSA -- Christian Life this Week -- Christian Community Mixer -- Weekly Menu: New! Weekend Brunch!
Announcements mention Brett Farquharson, Dr. Mark Loo, and Bryon Williams.