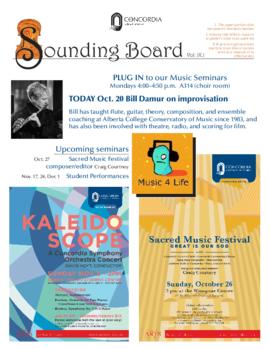 Sounding Board Volume 09/Issue 01
Table of contents: Jubiloso's Betty Radford wins Canadian Guild of Handbell Ringers Composition Award -- Her plug for Concordia's handbell profile -- Catch Jubiloso! Bells of Concordia this Sunday in Tegler--FREE to you!
Issue includes poster for the Sacred Music Festival held at the Winspear Centre.
Faculty and staff mentioned in this issue includes David Hoyt.