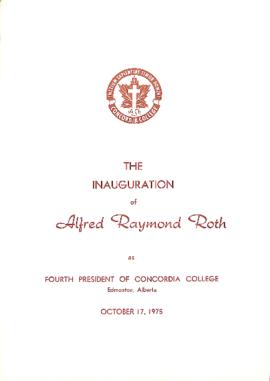 Inauguration of Alfred Raymond Roth as Fourth President of Concordia College, Edmonton
Program includes a description of Alfred Roth, a history of Concordia College, and a list of previous presidents. Order of service includes salutations by Douglas Holtby, Prof. Walter Schienbein, Dr. Arthur Ahlschwede, The Rev. Glen Johnson, Dr. R. G. Baldwin, His Worship Mayor William Hawrelak and Mr. David King. Benediction by Dr. A. H. Schwermann.
Program also includes the members of the Board of Control, the Inauguration Committee, the Faculty Committee for the Election of the President, and the Electors.