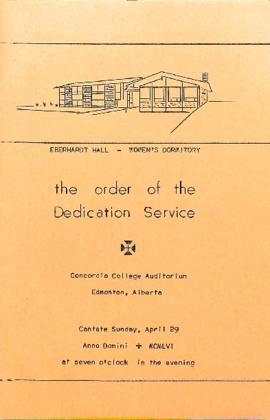 Order of the Dedication Service
Preacher is listed as Oliver R. Harms. Liturgists are listed as Rev. W. A. Rumsch, and Rev. W. F. Schoepp. Organist is Marvelyn Schwermann. The Chorus
Director is Rev. Albert H. Schwermann. The Officiant is Rev. Walter M. Wangerin, President of Concordia College. Guests include: Rev. W. C. Eifert, William Hawrelak, Anders O. Aalborg, Bernal E. Walker, and K. C. Stanley.