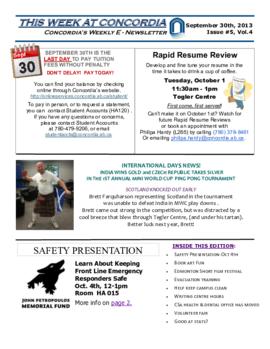 Concordia Weekly Newsletter Volume 04/Issue 05
Table of contents: Safety Presentation-Oct 4th -- Book art Fun -- Edmonton Short film festival -- Evacuation training -- Help keep campus clean -- Writing centre hours -- CSa health & dental office has moved -- Volunteer fair -- Good at stats?
Includes announcement for Read In week at Concordia.
Announcements mention Philipa Hardy, Brett Farquharson, Andrew Sterne and Heather Holubowich.