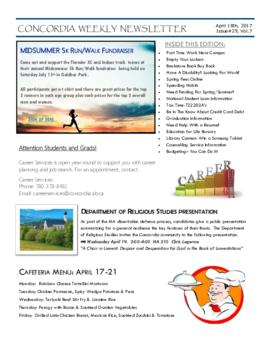 Concordia Weekly Newsletter Volume 07/Issue 29
Table of contents: Part Time Work Near Campus -- Empty Your Lockers -- Bookstore Book Buy Back -- Have A Disability? Looking For Work? -- Spring Fees Online -- Spending Habits -- Need Funding For Spring/Summer? -- National Student Loan Information -- Tax Time-T22202A's -- Be In The Know About Credit Card Debt -- Graduation Information -- Need Help With a Resume? -- Education for Life Bursary -- Library Contest: Win a Samsung Tablet -- Counselling Service Information -- Budgeting– You Can Do It!
Announcements mention Judy Kruse.