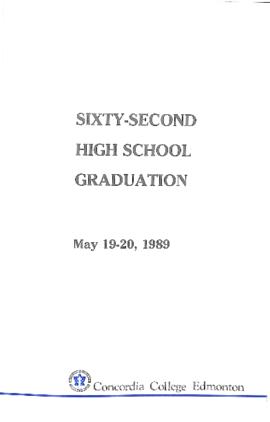 Sixty-Second High School Graduation
Program includes a schedule of events, the order of worship, the participants, the processional, national anthem, invocation, salutatory address, a hymn, introduction of the commencement speaker, the commencement address, awarding of the diplomas, valedictory address, the Christo et Ecclesiae Award, the Alumni Association welcome, alma mater, the president's message, the prayer and benediction, recessional, and a list of graduates from the class of 1989.
Participants include: Rev. Richard Kraemer, Rev. Mark Sallach, Rev. Wayne Stuhlmiller, Dr. Judith C. Meier, Rev. Warren Steckelberg, Mr. Neil Fenske, Rev. Lester H. Gierach, and Rev. Larry MacKay.