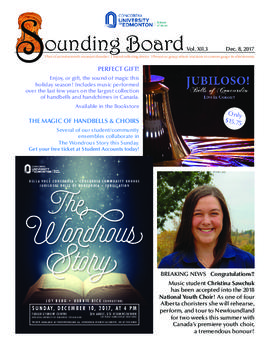 Sounding Board Volume 12/Issue 03
Table of contents: The perfect gift: Jubiloso! Bells of Concordia CD -- "The Wondrous Story" this Sunday, 4 pm in Tegler: CUE's student/community choirs & handbells -- Congratulations to Music student Christina Sawchuk, selected for 2018 National Youth Choir!
Faculty and staff mentioned in this issue includes Dr. Joy Berg and Debbie Rice.