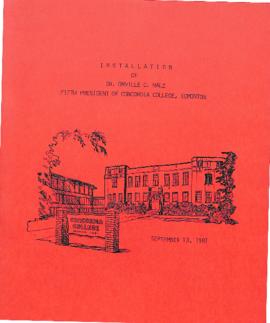 Installation of Dr. Orville C. Walz Fifth President of Concordia College, Edmonton
Program includes the order of service, hymns, and a list of participants. Participants include:
The liturgist is Rev. Richard Kraemer, Spiritual Life Co-ordinator; the preacher is Rev. Edwin Lehman, President, Alberta-British Columbia District; the installer is Rev. Roy Holm, President, Manitoba-Saskatchewan District; the lector is Rev. Albin Stanfel, President, Ontario District President; the organist is Dr. Barry Bromley; the choir director is Gordon Hafso; and the names of the trumpets, crucifer, and torch bearers are also listed.