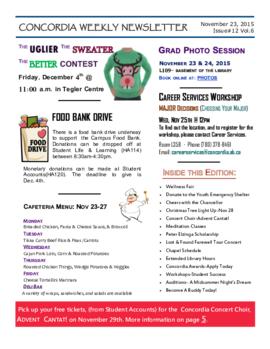 Concordia Weekly Newsletter Volume 06/Issue 12
Table of contents: Wellness Fair -- Donate to the Youth Emergency Shelter -- Cheers with the Chancellor -- Christmas Tree Light Up-Nov 28 -- Concert Choir-Advent Cantat! -- Meditation Classes -- Peter Elzinga Scholarship -- Lost & Found Farewell Tour Concert -- Chapel Schedule -- Extended Library Hours -- Concordia Awards-Apply Today -- Workshops-Student Success -- Auditions– A Midsummer Night's Dream -- Become A Buddy Today!
Announcements mention Hon. Allan H. Wachowich, Joy Berg, Rev. Lorne Manweiler, Gerald Krispin, Jonathan Kraemer, and Caroline Howarth.