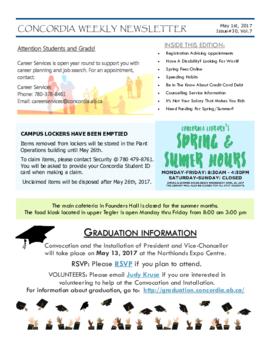 Concordia Weekly Newsletter Volume 07/Issue 30
Table of contents: Registration Advising appointments -- Have A Disability? Looking For Work? -- Spring Fees Online -- Spending Habits -- Be In The Know About Credit Card Debt -- Counselling Service Information -- It's Not Your Salary That Makes You Rich -- Need Funding For Spring/Summer?
Announcements mention Judy Kruse.